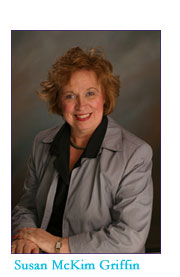 Susan has been working with non-profit organizations in Kentucky and beyond for over 30 years. She is one of the most successful women fundraising consultants in the region. Born and raised in Louisville Kentucky, she is a proud graduate of Spalding University and the University of Kentucky. Susan was a part of the first non-traditional distance learning program in the state of Kentucky. She worked in development at the University of Louisville and the Cathedral Heritage Foundation before stepping out into the consulting world. She has built Griffin Fundraising and Marketing on a strong foundation of integrity and dedication to the overall success of her clients. Her natural ability to create a winning strategy and a road map to success for her clients is a true value add to any project.
Susan has been asked to speak at many professional associations including the Association of Fundraising Professionals and Fundraising Executives of Metro Louisville. She has made numerous presentations and hosted strategic planning retreats with a countless number of clients. Susan is a competitive trivia player and loves to travel.
Liz brings more than 15 years of experience in marketing, sales and fundraising to her clients. Clients have liked fresh ideas on converting social media followers to nonprofit donors. Her years of experience in sponsorship sales and event logistics social event and business conferences, virtual or face to face, have supported an increase in donations and donor retention. Liz really likes to help clients focus their story to show the most impact to stakeholders.
Liz is a graduate of Western Kentucky University and holds her CFRM from the IU Lilly Fundraising School. Liz is also co-founder of Real Estate Distilled, a national residential real estate conference. She serves on the several boards and committees and is a Girl Scout leader to her oldest daughter's Brownie Troop.
Bert Ansback
Graphic Designer Associate
From brand packages to sponsorship decks, Bert has helped our clients form solid visual design concepts to communicate the needs and goals of the organization. He has had the opportunity to lead corporate branding projects as well as create marketing materials for events, annual gift and sponsorship asks.
Bert is a graduate of the University of Kentucky with a concentration in painting. He has an interest in all areas of graphic design: web, mobile,
print, and UI/UX. When he is isn't hard at work on the computer, he enjoys outdoor activities like hiking, fishing, and kayaking.